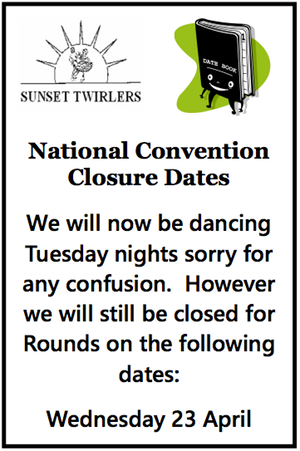 Welcome again to our club's news.
We hope you were all on the ball and spotted our deliberate mistake in the advertisement last month for our Birthday. Unfortunately in an effort to take on board comments about the detail in our ads Les omitted the date for our birthday. The date is 10th May and plans are well underway - see the corrected advertisement - we hope to see you all there.
During February and into March we once again welcomed Sheila from the United Kingdom here in Adelaide to visit her family.
The first Tuesday in March was our Mad March Dance 'M' Theme. Thank you to the dancers who got into the theme. We had a Monk, Maid, Marine, Magician, Mabel (as in Dan & Dave), Mug, Moon, Mexican, Musician just to name a few. The was no shortage of "M" songs sung by Molly the Monk (aka Les). Also because it was shrove Tuesday we had some delicious pancakes topped with "M"aple Syrup plus other delicious topings as well such as jam, cream, ice cream. Thank you to Eddie & Rosalie for organizing the pancakes.
Despite our advertisement last month the club will now be dancing on Tuesday nights during the National Convention. John Casey will be calling - please see the amended advertisement.
We wish all dancers a safe trip over to Canberra and we hope you enjoy the National Convention
Happy Dancing from Anne & Les