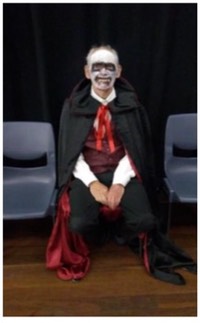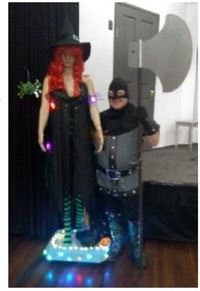 Our learners class continues to grow, we now have twelve dancers with equal numbers of men and women. We are making good progress through the program
For our September charity night numbers were not as good as expected, however we did manage to raise $200 for the CFS. Thank you for all who attended.
In October we celebrated Halloween. Thank you to those who dressed the part, we saw the return of the "Executioner" only this time he had a much bigger axe. There was a visit from Count Dracula (aka Dennis), the usual spooky singing calls and a disgusting looking supper. We also unearthed a hidden talent amongst us with a special performance by Maarty and Zoe at supper time. Thank you to everyone who helped with the decorations as well.
Anne, Les, Brian & Judy travelled to Mt Gambier to attend their 36th Birthday. Congratulations to Pine City Twirlers and thank you for a great night of dancing.
We are looking forward to our Christmas dinner in December which is usually very popular and well attended. We wish all our dancers a joyous festive season and look forward to your continued support in 2020. 
Happy Dancing from Anne & Les