Welcome to the club news. Sorry for missing the March edition the problem must have been PEBKAC as the articles were done just must have forgot to hit send on the email.
Congratulations to Peter Stavast on your 50th Birthday.
The first dance of the year was a free dance on 13 January for Peter's 50th birthday. What a fantastic night of dance and celebration with over 75 dancers in attendance.
It was great to see a lot of visiting dancers and callers from other clubs. Thank you to Graham Elliott, Jeff Seidel & John Casey for calling.
Ian Fowler did a very funny stand up comedy routine in which we found out interesting ways in which Peter can use various body extremities for various things.
So thank you to all those who came and helped Peter to celebrate his 50th birthday.
Aside from Peter's celebration we also presented Darryl Nixon with his graduation certificate and club badge as he was unable to attend the actual graduation night.
February we celebrated Chinese New Year. A lot of confusion is it the year of the Goat or the year of the Sheep. Despite this another great night with over 5 sets and thank you.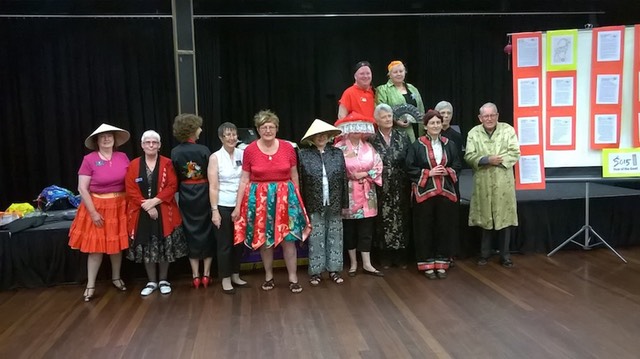 Sunset Twirlers Chinese New Year February 2015